What is Vitality and how does it work?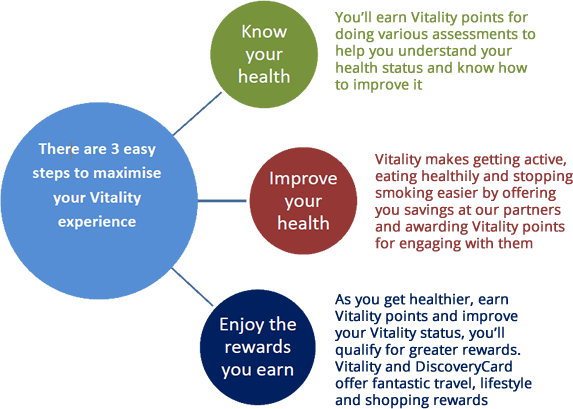 Vitality is a scientifically formulated wellness program offered by Discovery. It aims to assist you in living a healthier lifestyle by incentivising you with a range of lifestyle rewards. By engaging in certain health-related activities and assessments you are awarded points. As you earn a certain number of points, you are awarded a higher Vitality "status". The higher your status, the higher the level of rewards you are offered by Discovery.
Determining the Vitality points you need to earn
 
Blue status
Bronze status
Silver status
Gold status
Diamond status
1 Adult on policy
0
15 000
35 000
45 000

Reach Gold for 3 consecutive years

2 Adults on policy
0
30 000
70 000
90 000
3 Adults on policy
0
40 000
90 000
120 000
4 Adults on policy
0
50 000
110 000
150 000
5 Adults on policy
0
60 000
130 000
180 000
Things you should know about Vitality points
An "adult" for 

the purposes of 

Vitality is 

anyone over 18

Vitality points 

reset on 1 

January each 

year

When you earn 

a Vitality status, 

it is valid until 

the end of the 

following year
You have access 

to the rewards 

immediately but 

a higher status 

improves them
So what points can you earn?
Different activities will earn you different amounts of points. This page will give you an 
indication of the various activities and points on offer. Please note this does not 
include all points on offer, for full details, please visit www.discovery.co.za for details.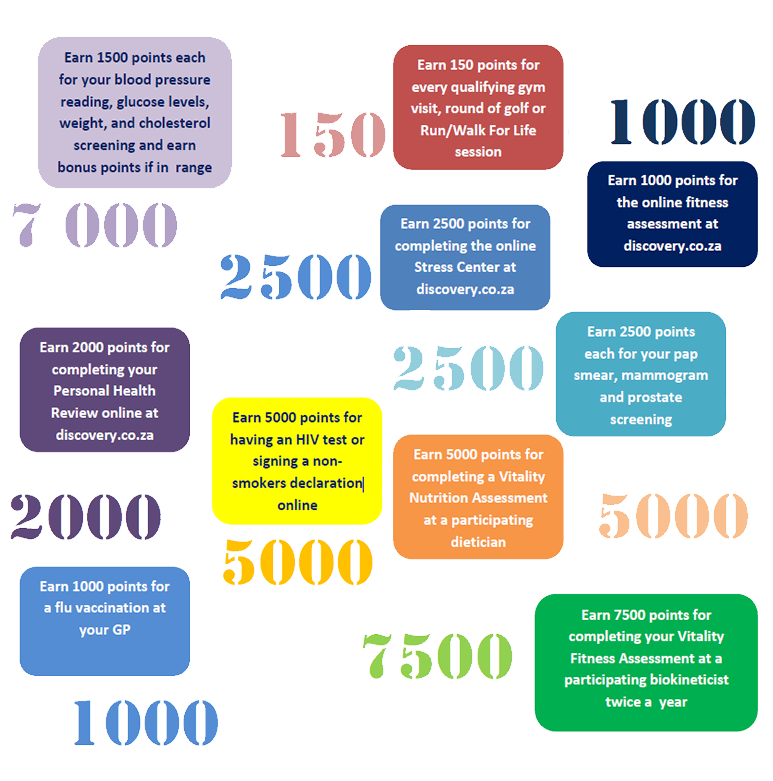 Getting to Gold is easier than you think
Below is an example of an individual member's path to Gold Vitality status. Make the program your own and set your personal goals to maximise your Vitality experience.
Activity
Points per person
Blue Vitality Status
0
Online Fitness Assessment
1 000
Online Personal Health Review
2 000
Online Non-smoker's Declaration
5 000
Online Stress Center completion
2 500
HIV Screening
5 000
Bronze Vitality Status reached
15 500
Vitality partner pharmacy screenings" "Vitality Check"
7 000
"Vitality Check" results in acceptable range – boosters *
7 000
Vitality Fitness Assessment
7 500
Silver Vitality status reached
37 000
Second Vitality Fitness Assessment
7 500
Vitality Nutrition Assessment
5 000
Gold Vitality status reached

49 500

* Points indicated are dependent on test results and may vary dependant on results
Bonus tip: Your children can also earn Vitality points. Visit discovery.co.za to find out more
Rewards time…
The point of Vitality is to get you excited about taking positive steps towards a healthier lifestyle. Below are some of the fantastic rewards on offer.
Virgin Active or Planet Fitness
Pay a once-off joining fee for main member and spouse and receive an 80% reduced monthly fee
Weigh-Less
Achieve your goal weight by joining Weigh-Less at a 30% discount
Sterkinekor
Watch Sterkinekor movies for below half price. Kids between 2 and 17 years of age can watch movies for free after completing an online children's wellness questionnaire
Pick and Pay and Woolworths HealthyFood
Save of up to 25% on HealthyFood™ items at Pick and Pay or Woolworths
Clicks HealthyCare benefit

Get up to 25% cash back on all HealthyCare

products and get between 5% and 15% Clicks

Cash-back Rewards on all products at Clicks.

HealthyGear with Adidas

And Totalsports

Get up to 25% cash back on all HealthyGear

at adidas and Totalsports

Curves
No registration fee - pay only the monthly fee
Run/Walk For Life
Up to 80% Savings
Smokenders or Allen Carr's Easyway
Up to 80% Savings
Rewards time…
VitalityMobile-Connecting Vitality members through free calls and boosted data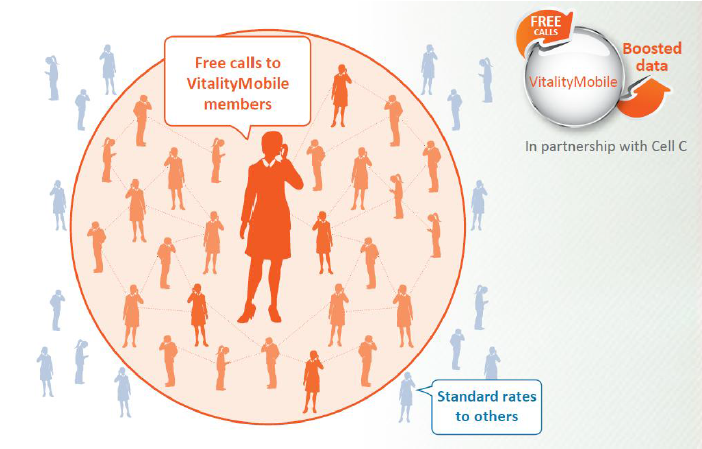 Step 1:

Choose your cellphone and contract through Cell C

Step 2:

Activate VitalityMobile for R29 a month and call other VitalityMobile members for free
Rewards that grow with your Vitality status
The rewards below are available to you immediately. You will see however that they improve dramatically as your Vitality status goes up.
 
Blue
Bronze
Silver
Gold
Diamond
15%
20%
25%
35%
 
15%
20%
25%
35%
 
15%
20%
25%
35%
 
15%*
18%*
19%*
22%*
 
15%*
18%*
19%*
22%*
 
15%*
18%*
19%*
22%*
 
 
30%
35%
40%
50%
 
8%
10%
15%
25%
 
5%
7%
9%
15%
 
*This travel reward is dependent on you having a Discovery credit card
Other ways you can use Vitality